Blouberg – Chapmans (Reverse) Trail and Path MTB (102km)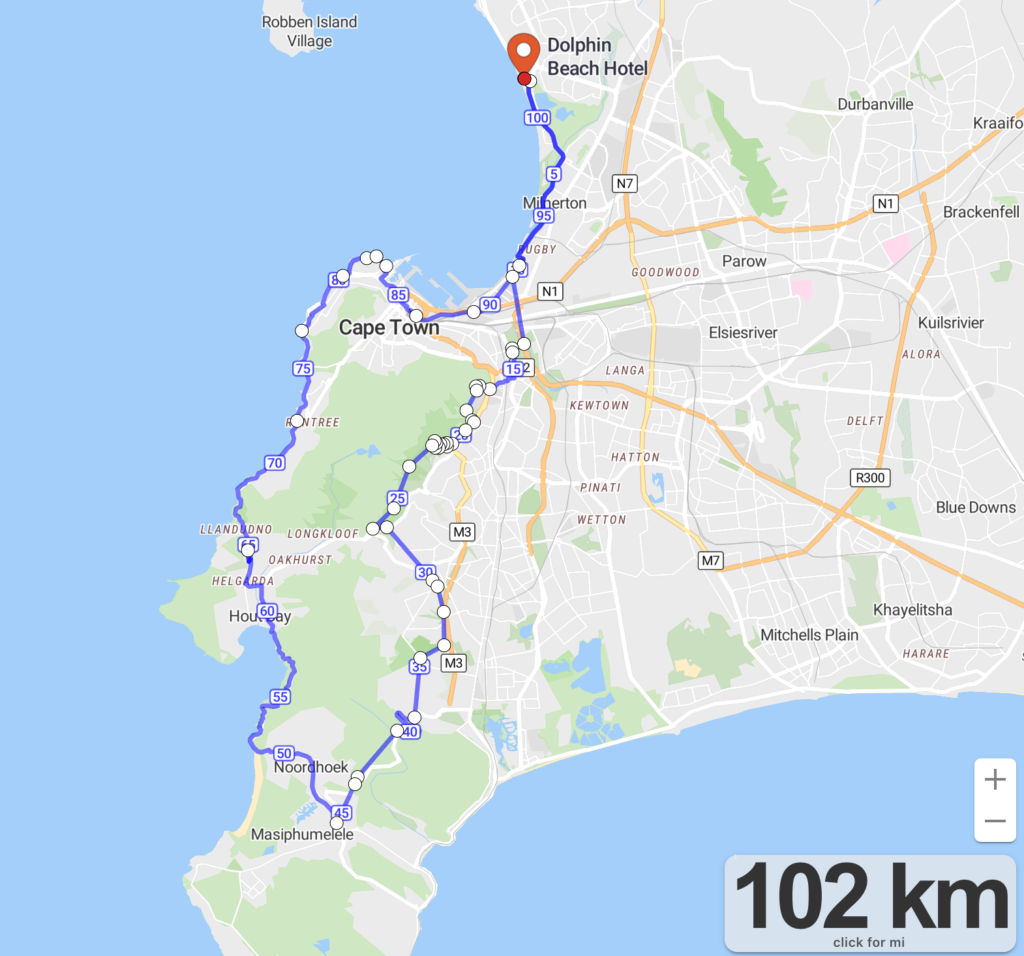 Blouberg-Hout-Blouberg (78.5 km)
Peak elevation is 261m (peak gradient 21%)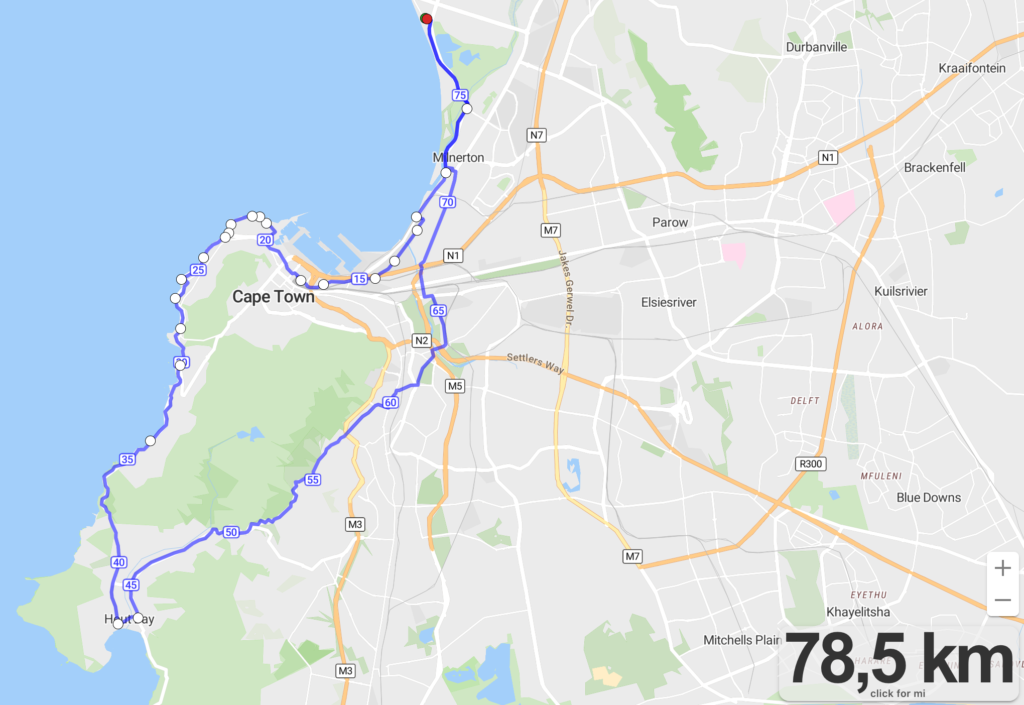 Blouberg-Koeberg-Blouberg (38 km)
Description: Flat and fast
Estimated time: 2 hours
Peak elevation is 37m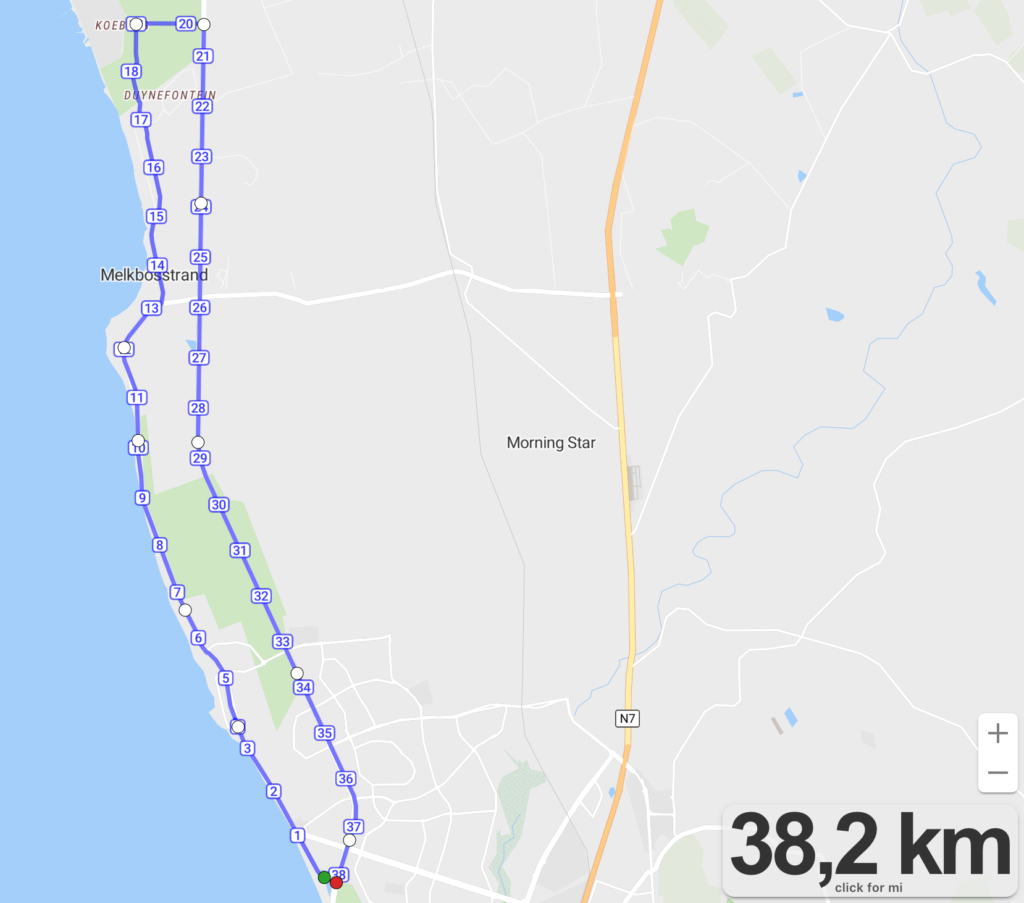 Blouberg-Chapmans-Blouberg (101km)
I had planned to do Blouberg-Hout-blouberg but then decided to do Chapman's while on the road.
Which is certainly worth it…many riders on the road and it is safe with enough space and lanes most of the way there. However, the way back will break you.
All the good stuff is on the way their – West Coast Cycle Path, Busway through City to Cape Point Promenade, Victoria road scenic route all the way to Hout bay. Then Chapmans peak road – even the M64 was descent but that was when the legs and energy levels were roasted.
The way back was not scenic – it was junk.
Cycle lane became non-existent towards Silvermine (M64), Ou Kaapse Weg, very dangerous car-wise and up to 300m with 22% gradients at times.
Then the M4 and Koeberg road all the way back is not cycler friendly.
Difficulty: 4/5
Roads: 3/5
I would not recommend this route. The first half yes, but do not ride the M64 and the way back I took is not lekker.

https://onthegomap.com/s/hk1s3ihg
Blouberg-KloofNek-Blouberg (45km)
A route along the west coast cycle route into the city – through the city – up to Vredehoek across to Kloof Nek down back through the city and home.
Cycle paths most of the way – with a nice climb in the middle.
Before the climb you can stop and get some spring water from the Bradwell spring collection point on Ludlow Road. You can do up concrete road at the top by the water reserviour then keep going and connect to tafelburg road then connect to Kloof Nek – which is what I did. It probably adds about 40m in elevation.
Best to do this route on a Sunday.
Difficulty: 3/5
Roads: 4/5
A 214m climb over 3000m means about 7% gradient.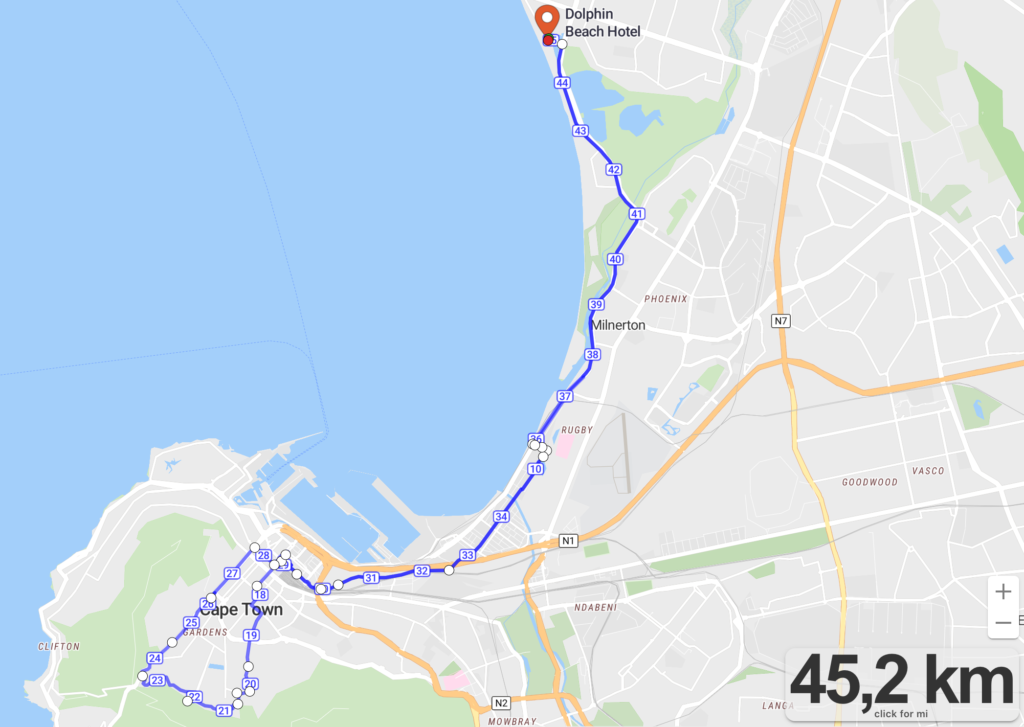 Blouberg – Cape Town – Muizenburg (45km)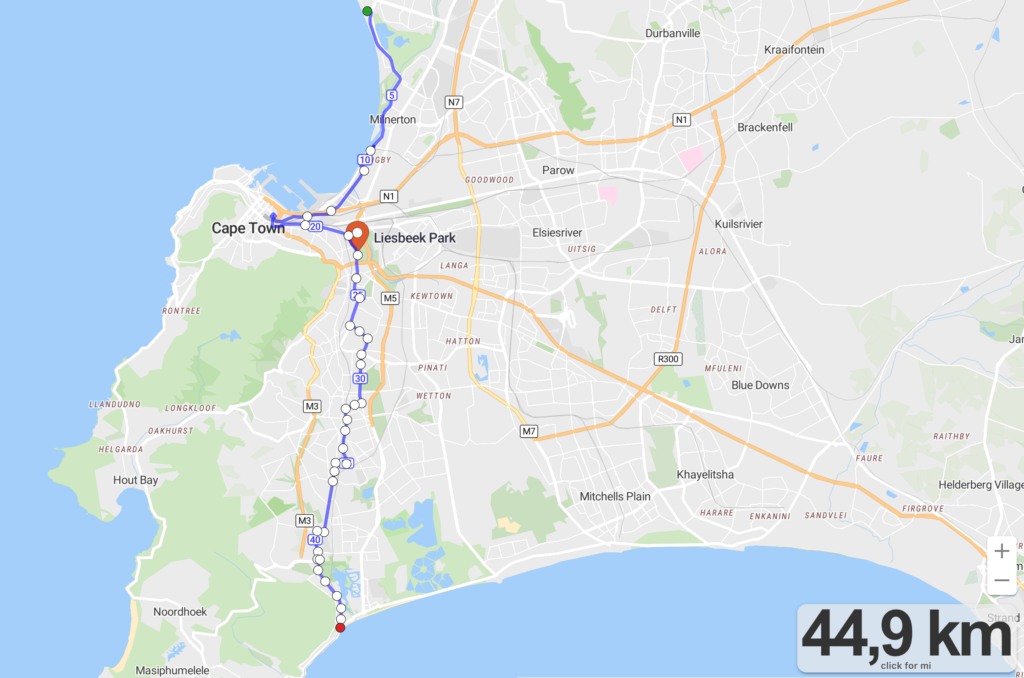 It is a very flat route

Blouberg – Cape Point – Blouberg (146 km)
The psycho route.
You need to prepare and know your endurance level for a ride like this.
I know I can go at 20km/h at 85% on flat – with no wind.
So 146 is about 8 hours of cycling rounded up.
Of course, this is going to take the whole day so plan rests every 2/3 hours – to eat solid foods: jam sandwiches, rice cakes and bars.
Sun protection is vital – physical barriers – no just sunscreen. Face arm and leg coverings.
Saddle, bike tool and spare tubes
2500kj every hour of cycling
8 hours x 2500kj = 20000kj
60% of this should be liquid sugar
700g of sugar = 12000kj
2 bananas + 2 apples = 1000kj
2 jam sandwichs = 2000kj
get fruit juice and snacks on the ride = 5000kj
2g of salt and 60g of sugar per litre of water.
100g of sugar: 1700 kj
banana: 306 kj
apple: 199kj
jam sandwich: 1000kj
Water to consume is about 8 or 9 litres apparently.
Anyway crazy – better to just go to Kalk bay or Simonstown if feeling strong.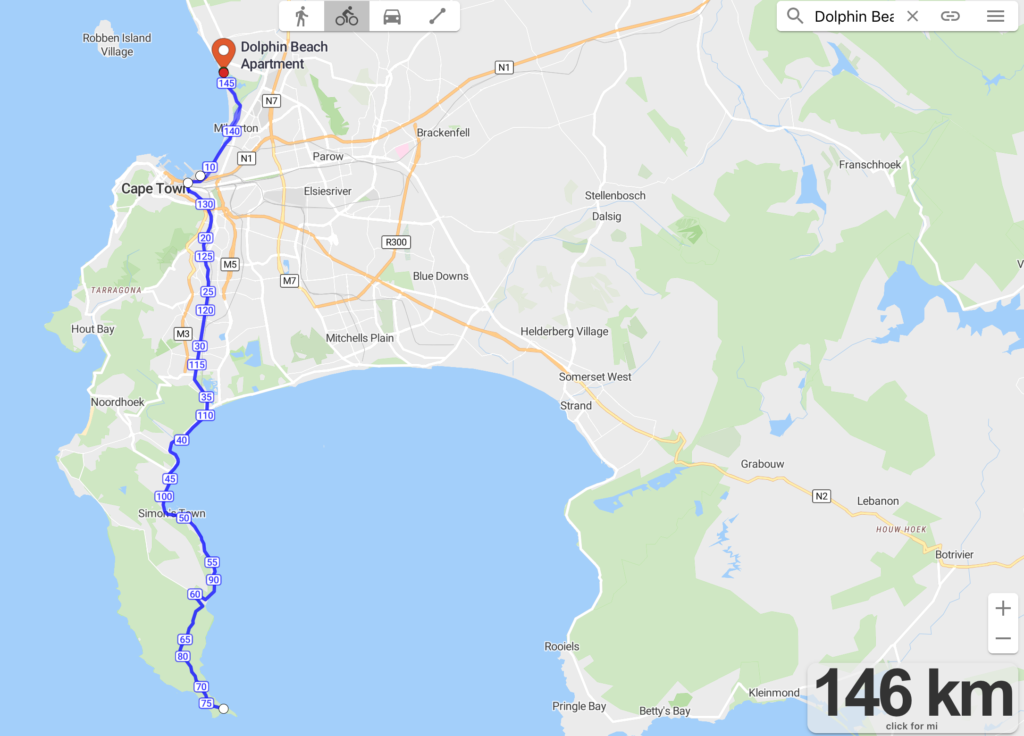 Bloueberg – Kannon Kop via hillcrest – Blouberg (50km)
Tygervalley is a dangerous road – but once into Hillcrest it is all good. It is a huge 400m climb up to Kanonkop on lose popcorn stones and gravel. Then onto one of the best MTB descents – intermediate level – I have ever done.
Then there is the super tubes and crazy corner trails all the way down to the dairy shed.

Blouberg – Hoogekraal – Faircape – Blouberg (MTB trail) (75 km)
The map says 54km but I think it is more around 75km due to not being able to catch the contours of the trail
Stay off the M48 road – not cyclist friendly at all.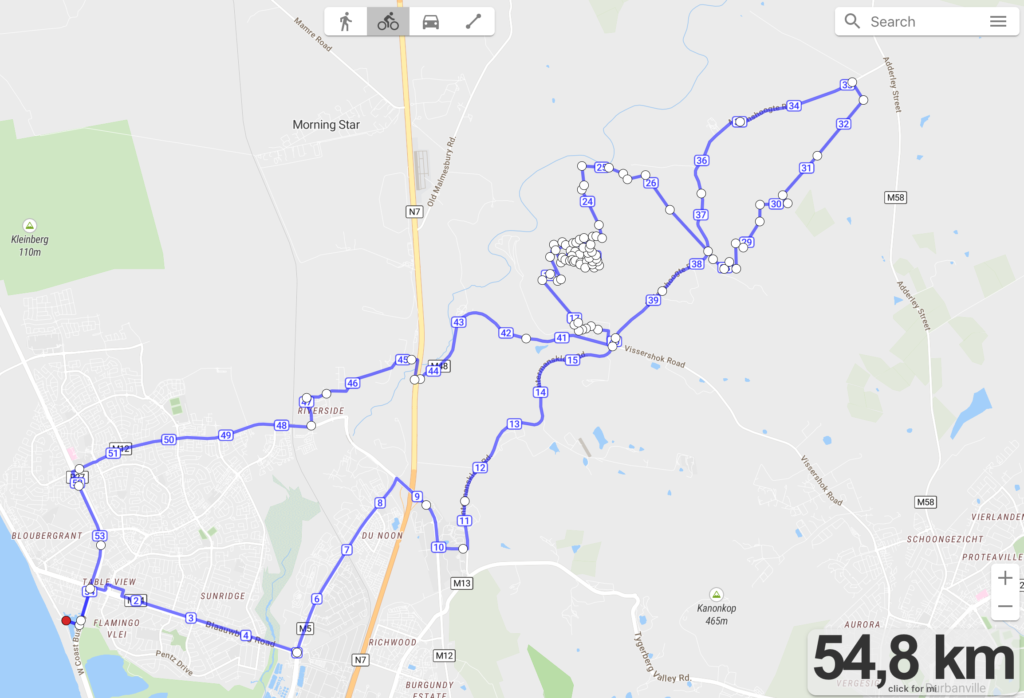 Blouberg – Contermanskloof Mast – Blouberg (MTB trail) (43km)